Meester- en juffenfeest een groot succes!
Meester- en juffenfeest groot succes!
Vandaag hebben alle leerkrachten gezamenlijk hun verjaardag gevierd. De leerkrachten werden verwend met mooie plantjes. De kinderen hebben in het zonnetje allerlei spelletjes gedaan.
Meester Bart kwam de kinderen muziekles geven in de vorm van "Move to the beat". De kinderen van groep 1 t/m 6 hebben een dans geleerd en de kinderen van groep 7/8 een eigen beat ontworpen. Aan het eind van de ochtend hebben de kinderen een optreden verzorgd voor alle aanwezigen. We kijken terug op een gezellige en geslaagde ochtend.
Iedereen bedankt !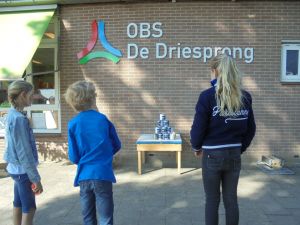 Naar het overzicht